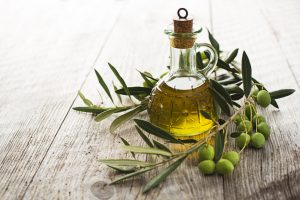 Naturally, when one thinks about olive oil or anything associated with its use, cooking is the first thing that instinctively jumps to mind. This programmed instinct is not helped at all by the fact that you'll almost always find olive oil in the cooking aisle at your local grocery store or supermarket, with many different types of olive oils in varying grades available FOR COOKING.
Olive oil is much more versatile than anyone who exclusively associates it with cooking and food might imagine though, with its usefulness effective in health matters, beauty, and as a general household miracle liquid.
For Health
Olive oil's natural properties have a number of health benefits, with a little sip of the oil providing relief from coughs. It's also very effective as a cure for ear aches and in the alleviation of diaper rash.
For Beauty
It's not by mistake that many commercial beauty products contain olive oil as an active ingredient as this gem of nature packs a lot of body enhancement power. Olive oil is great for the skin, giving it that healthy look if used in bath water or applied directly as a moisturizer. The moisturizing properties are also effective in restoring damaged cuticles and it can also be used as an effective lip balm, shaving cream and exfoliate, or make-up remover.
In and Around the House
Olive oil's effectiveness as a common household liquid is unmatched, with its versatility and power great for removing gum, polishing shoes and wood, treating leather, and even oiling-up stubborn zippers.
We are doing a nationwide launch, click here for your special savings; http://makeena.com/.