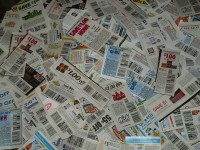 If you're like most busy millennial moms, you understand the importance of saving a dollar but aren't willing to waste time cutting coupons out of your local newspaper.  Between paying for the newspaper itself, cutting the coupons out, and then remembering to bring the coupons with you every single time you shop, coupons end up being more of a hassle than a convenience.  What's more, the big coupon vendors generally don't include savings for the all natural and organic products that you want to buy to keep you and your family healthy.  Fortunately the makeena app is available for iPhone users, and having it right on your phone means you'll never have to worry about leaving your coupons at home again.
Makeena focuses on healthy and sustainable products from brands you already love such as Beanitos, Mocktail Beverages, Zevia, Quinn Popcorn, Righteously Raw, and dozens of others.  Even better, the list keeps growing as brands recognize the opportunity that makeena offers for them to grow their brand and save their customers money at the same time.  Not sure what to try?  Makeena will help you find new brands for your family based on your personal preferences.  Have a particular brand you can't live without?  Soon, makeena will let you know which stores close by sell your favorite brands so you don't need to guess.
While makeena does save you money, it operates differently than a traditional coupon system.  You earn money by buying products from makeena's authorized brands, and you can share every earning opportunity with friends through your social networks.  Never miss out on a chance to save money on your favorite all natural products again!
Are you ready to save time and money the next time you go grocery shopping?  Head over to the Apple App Store at the end of February and download makeena for free!