We've just recently had the pleasure of sitting down and chatting with Suzie Miller and Lizann Anderson, founders and pioneers of Among Friends Baking Mixes, otherwise known to us as magic bags of gluten-free organic goodness that happen to turn into brownies, cookies, and much more!  The Ann Arbor duo has a lot to be proud of to date, listing their children as the main inspiration for their business, one that has taken many different turns and as much blood, sweat and tears along the path to healthy, sustainable living.  It's all in the name — friendship and love are at the core of the company that all started by handcrafting baking mixes for their closest friends.  Here is the full interview, where we reminisce a little and talk about what they're up to.
1.  What was the inspiration behind creating your product line?
Suzie & Lizann:  Among Friends handcrafted baking mixes make it easy for people to produce oven-fresh, delicious, bakery-quality treats with a superior nutritional profile.  Our kids inspire us.  We each had a picky eater who tried our patience and palates at every meal.  Lizann's middle son, the bloodhound, sniffed everything before tasting, searching for unidentified specks.  We knew if we satisfied our panel of six taste testers, we would appeal to lots of folks WITHOUT sacrificing quality or nutrition.  Our friendship also inspired us. We are a writer and designer by training.  We loved the conceptual part, the naming of our products after our loved ones, the colors, the packaging design, the evolution from the closet off my garage to our current facility.  And we love to tinker in the kitchen.  And even now, immersed in production and distribution issues, the friendship that fueled our ideas and ambitions remains strong.  Most of all, we love to share our recipes with an ever-widening circle of friends.  It's inspiring to think we might play a small part in bringing people around the table, where they can talk, laugh, connect, and make memories.
2.  What is the company culture like with your team?
Suzie & Lizann:  Among Friends currently has 20 employees and is headquartered in Ann Arbor, Michigan.  Ann Arbor is a great place to be.  It's a real foodie town that has incubated some high-energy food companies, particularly in the natural foods area.  Our team has an incredible love and passion for what we are doing, and where the company is headed.  Everyone is involved in so many aspects of our business – constantly weighing in on flavors or recipes, discussing new solutions in production or ideas for marketing.  We continue to be a close-knit group as we rapidly add to our ranks.  Plus we have a test kitchen that always has fresh-baked goodies to sample.
3.  What does your team do to promote healthy and sustainable living internally?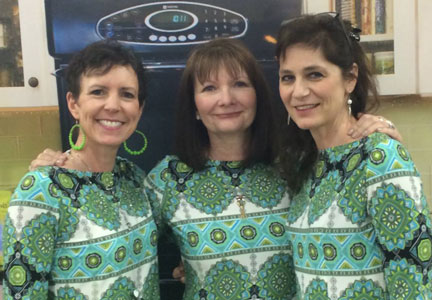 The friendship that began Among Friends fuels the creativity and collaboration within our business.  As we've grown and brought other business skills and resources to bear on our company, we've looked for that same friendship.  We have fun.  We extend this friendship to our employees and our customers.  We connect with them, their lives, their needs, their stories.  Because, in the end, we're just trying to bring a little more light and nourishment into their lives.  And a cartwheel or hallway handstand is also a great way to laugh and de-stress during a long day of production.
4.  What does your team do to promote healthy and sustainable living externally?
Suzie & Lizann:  From the beginning, we talked about Among Friends as enabling an experience as much as selling a product.  We were our own target audience.  We wanted other time pressed folks to be able to turn out scratch quality baked goods packed with flavor and whole grain nutrition at a moment's notice.  We wanted to get people back in the kitchen, but not strand them there.  We can tell by the number of comments, calls and emails we receive that this balance, along with the option of whole-grain, gluten-free mixes is really helping families.
5.  What's your most popular product and why?
Suzie:  Everyone's taste buds are different and our customers use different mixes for different occasions.  Shane's Spicy Molasses  Ginger  is often used at the holidays but also used in summer for ice cream sandwiches. Suzie Q's Oatmeal Chocolate Chip has been a standout since inception and our newest mix, Darcy's Old Fashioned Chocolate Chip Cookie is receiving rave reviews.  Because each mix is named after a family member or friend, we really can't determine the most popular, sorry!
6.  What can we expect to see from you and your team in the future?
Lizann: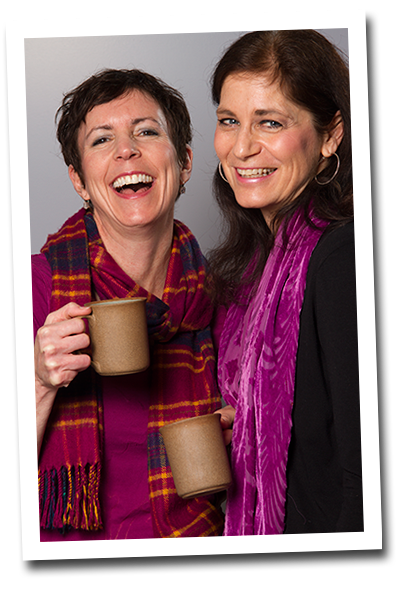 We never stop experimenting, it is simply part of our DNA.  Suzie will tell you that I have never discovered a recipe I didn't want to tinker with.  I only have one life—and oh so many recipes to try.  When we were working on our newest product, Darcy's Delish Old Fashioned Chocolate Chip Cookie, I made different versions for weeks, using sorghum, brown rice, oats, millet and nut meals.  In the end, we elected to go with all oat flour, after multiple tastings.  But all that learning about the different behaviors of flours will instruct our next phase of development.  Suzie:  We converted our entire line to gluten-free earlier this year and we feel this is just the beginning.  There are a whole lot of gluten-free options to be improved upon, from a taste and nutrition perspective.
7.  Why do you love partnering with makeena?
Makeena does a wonderful job of connecting healthy brands to consumers.  Those who may not have seen our product on shelves or not had the reason to purchase may see us aligned with you and pick up a bag on their next trip and we think that is a great introduction.
8.  Tell us a fun fact that no one knows about your company?
Lizann: We started in a 10' x 12'agriculture approved workroom off my garage, proudly bearing a world headquarters sign.  (Only two kid visitors allowed at a time.)  We hand delivered our products to local markets.  We now have a newly renovated 10,000 square foot facility and will be in more than 5,000 stores by year end.  Who knew it could all start in a garage?